Aquaman's Outragious Adventure!
is the thirtyth episode of
Batman: The Brave and the Bold
.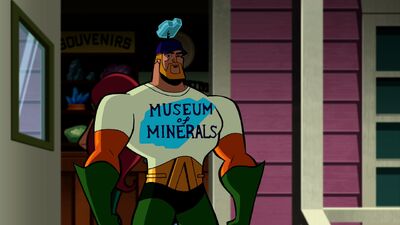 November 13, 2009
Over battlefields of World War 2, Batman calls up Enemy Ace, to help destroy a piece of Alien Artillery!
Main Plot
Edit
After defeating Fisherman, Aquaman goes on vacation with his wife Mera and his son Arthur Jr. However, they stop along the way when Aquaman helps Green Arrow and Blue Beetle. One of the stops also involves saving Batman from the Penguin.
Among the famous DC landmarks seen during Aquaman's travels are: Star City, Smallville, Blue Valley, Central City, Hub City, Fawcett City, Ivy Town, New Carthage, Opal City, and Blüdhaven.
That Mera bears a striking resemblence to Susan Long, combined with Dexter's mom's coloration!
Diedrich Bader as Batman
John DiMaggio as Enemy Ace/Aquaman
Sirena Irwin as Mera
Preston Strother as Arthur, Jr.
James Arnold Taylor as Green Arrow
Will Friedle as Blue Beetle
Stephen Root as Penguin/Planet Master
Dee Bradley Baker as Fisherman/Clock King
Ad blocker interference detected!
Wikia is a free-to-use site that makes money from advertising. We have a modified experience for viewers using ad blockers

Wikia is not accessible if you've made further modifications. Remove the custom ad blocker rule(s) and the page will load as expected.