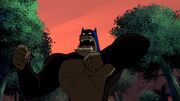 Mogo the Bat-Ape is one of the supporting protagonists in Batman: The Brave and the Bold.
His vocals are provided by Dee Bradley Baker.
Biography:
Edit
Mogo is an ape who was saved by Batman and Robin from poachers. Since then, he aided the duo in fighting jungle-based crime as Bat-Ape. As a symbol of his affiliation, Bat-Ape wears one of Batman's Bat masks. While the Dynamic Duo fought Catwoman, Batman summoned Bat-Ape to help turn the tide. He defeated Hecate, Catwoman's pet panther.
Appearances:
Edit
Season 3:
Edit
Ad blocker interference detected!
Wikia is a free-to-use site that makes money from advertising. We have a modified experience for viewers using ad blockers

Wikia is not accessible if you've made further modifications. Remove the custom ad blocker rule(s) and the page will load as expected.