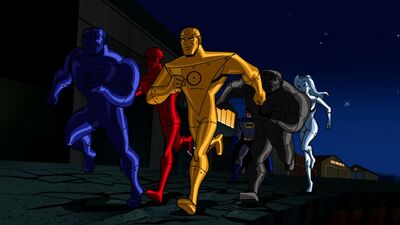 Clash of the Metal Men! is thirty-third episode of Batman: The Brave and the Bold.
Premieres
Edit
January 1, 2010
After helping Batman defeat a gang of pirates, Aquaman returns to Atlantis to find it overtaken by Starro clones. There he meets the Faceless Hunter who is preparing for the Great Starro Invasion.
Main Plot
Edit
During a battle with Chemo, Batman is introduced to a team of energetic androids known as the Metal Men. When their creator Dr.William Magnus goes missing at the hands of the Gas Gang, Batman and the Metal Men team up to track them down.
???
Diedrich Bader as Batman
John DiMaggio as Aquaman
Corey Burton as Dr. Milton William Magnus/Mercury
Lex Lang as Gold/Hydrogen
Brian Bloom as Iron/Oxygen
Hyden Walch as Platinum/Carbon Dioxide
Bill Fagerbakke as Lead/Helium
Dee Bradley Baker as Tin/Chemo
Ad blocker interference detected!
Wikia is a free-to-use site that makes money from advertising. We have a modified experience for viewers using ad blockers

Wikia is not accessible if you've made further modifications. Remove the custom ad blocker rule(s) and the page will load as expected.