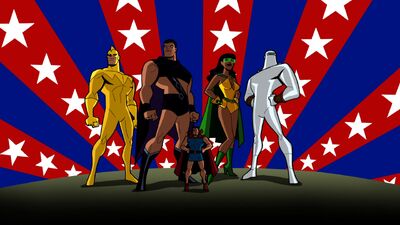 Cry Freedom Fighters! is the fourty-eighth episode of Batman: The Brave and the Bold.
November 5, 2010
Blue Beetle and Stargirl battle Mantis, while Batman is busy.
Main Plot
Edit
The Supreme Chairman of Qward attempts to invade Earth with his forces and it is up to the Freedom Fighters (consisting of Uncle Sam, Doll Man, Black Condor, Human Bomb, Ray, and Phantom Lady), Batman, and a patriotic Plastic Man to save the day.
Phantom Lady has the same body shape of Huntress, and the same hair coloration!
Will Friedle as Blue Beetle
Hope Levy as Stargirl/Phantom Lady
Wade Williams as Mantis/Supreme Chairman of Qward
Diedrich Bader as Batman
Tom Kenny as Plastic Man/Ray
Peter Renaday as Uncle Sam
Jason C. Miller as Doll Man/Black Condor
Kevin Michael Richardson as President Barack Obama
Ad blocker interference detected!
Wikia is a free-to-use site that makes money from advertising. We have a modified experience for viewers using ad blockers

Wikia is not accessible if you've made further modifications. Remove the custom ad blocker rule(s) and the page will load as expected.