Emperor Joker!
is the fourty-second episode of
Batman: The Brave and the Bold
.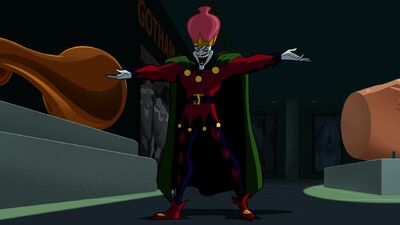 September 17, 2010
From the files of the Bat-Computer, Batman and Robin battle Firefly and his Rainbow Creature in a homage to Detective Comics issue #241 and Batman issue #134.
Main Plot
Edit
After Batman and Batgirl defeat Ten-Eyed Man during a jewelry theft, Bat-Mite gives his powers to the Joker by mistake. He uses his new gifts to remake the world in his own image and starts killing Batman and bringing him back to life over and over again. At the same time, Bat-Mite develops a crush on Harley Quinn and vice versa. Joker even creates Joker-Mite to torment Bat-Mite. Joker deceides to explore Batman's mind before driving Batman insane. Inside Batman's mind Joker finds a Gotham City without Batman and crime rampart which he is beginning to enjoy..until he realizes his worst nightmare...without a Batman...Joker doesn't exist as the clown prince of crime...but only as sane humdrum Jack Napier. Joker is so terrified at this fate..that he gives up his powers and everything goes back to normal. Bate-mite takes Joker-mite back to the 5th dimension.
*This story was based on a DC Comic of Joker Vs Superman in which Joker accidently gets super powers and proceeds to turn Superman nto a dog and torments Batman over and over again
*Joker-Mite face resembles Jack Nicholson playing Joker in Batman movie.
Diedrich Bader as Batman
Jeremy Shada as Robin
Robin Atkin Downes as Firefly/Ten-Eyed Man
Paul Reubens as Bat-Mite
Jeff Bennett as Joker
Meghan Strange as Harley Quinn