Emperor Joker!
is the fourty-second episode of
Batman: The Brave and the Bold
.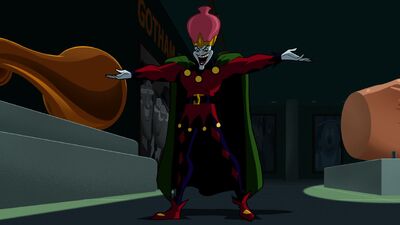 September 17, 2010
From the files of the Bat-Computer, Batman and Robin battle Firefly and his Rainbow Creature in a homage to Detective Comics issue #241 and Batman issue #134.
Main Plot
Edit
After Batman and Batgirl defeat Ten-Eyed Man during a jewelry theft, Bat-Mite gives his powers to the Joker by mistake. He uses his new gifts to remake the world in his own image and starts killing Batman and bringing him back to life over and over again. At the same time, Bat-Mite develops a crush on Harley Quinn and vice versa.
???
Diedrich Bader as Batman
Jeremy Shada as Robin
Robin Atkin Downes as Firefly/Ten-Eyed Man
Paul Reubens as Bat-Mite
Jeff Bennett as Joker
Meghan Strange as Harley Quinn
Ad blocker interference detected!
Wikia is a free-to-use site that makes money from advertising. We have a modified experience for viewers using ad blockers

Wikia is not accessible if you've made further modifications. Remove the custom ad blocker rule(s) and the page will load as expected.