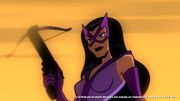 Helena Bertinelli aka Huntress is one of the supporting protagonists in Batman: The Brave and the Bold.
She is voiced by Tara Strong.
Biography:
Edit
The Huntress and Batman share a common past, children orphaned when their parents were violently killed leading them to take on costumed identities and take justice. However, the Huntress came from a much different background. Helena Bertinelli was born into Gotham City under a leading family in the Mafioso. In what came to be known as the Palm Sunday Massacre, Helena's family was assassinated. She fled to Sicily where she was trained under her cousin and then returned to Gotham.
As the Huntress, Helena's extreme vigilantism crossed the line and put her at odds with Batman, whom she openly flirts with. Bertinelli took on a career at Gotham University as a professor, most likely as the perfect alibi to cover for her alter-ego. Months later, Huntress was attacked by Faceless Hunter and turned with a Starro clone. She was returned to Gotham University to infect students and faculty with clones. After the invasion, she teamed up with Black Canary to capture Two-Face while he tried to steal the famed Cloak of Nefertiti. However, after that failed, she, Canary, Catwoman, and Batman infiltrated a mobster summit to try again to arrest Two-Face. Things took a turn for the strange when Batman believed he was Matches Malone and took over all of organized crime.
Appearances:
Edit
Season 1:
Edit
Season 2:
Edit
Season 3:
Edit
Ad blocker interference detected!
Wikia is a free-to-use site that makes money from advertising. We have a modified experience for viewers using ad blockers

Wikia is not accessible if you've made further modifications. Remove the custom ad blocker rule(s) and the page will load as expected.