Legends of the Dark-Mite!
is the ninteenth episode of
Batman: The Brave and the Bold
.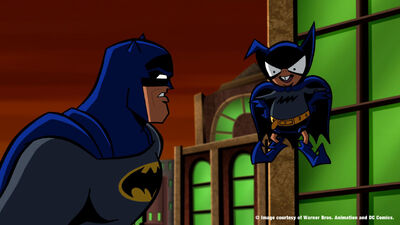 May 29, 2009
Batman teams up with his dog Ace the Bat-Hound to stop Catman from auctioning a Sumatran Tiger in the jungle.
Main Plot
Edit
Bat-Mite, Batman's biggest fan from the 5th Dimension, pops up and kidnaps his idol intending to make Batman a better hero.
Villains in Bat-Mite's fantasy: Joker, Penguin, Ridder, Catwoman, Mr. Freeze (in his Mr. Zero alias), Two-Face, Mad Hatter, Tweedledum and Tweedledee, Catman, Kite Man, Polka-Dot Man, Killer Moth, Tiger Shark, and Zebra-Man.
Diedrich Bader as Batman
Dee Bradley Baker as Bathound
Thomas F. Wilson as Catman
Paul Reubens as Bat-Mite
Jim Piddock as Calendar Man