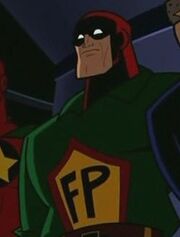 Terry Sloane aka Mr. Terrific is one of the supporting protagonists in Batman: The Brave and the Bold.
He is voiced by ???.
Biography:
Edit
Terry Sloane was a famous child genius who graduated high school at age 11 and finished college at 12. He pursued athletics and became an award-winning amateur athlete. Sloane then entered the business field and made a fortune. However, he felt his success was effortless. Feeling unfulfilled, Sloane slipped into depression. While contemplating suicide, Sloane rescued a young woman named Wanda Wilson from jumping off a bridge. He learned her younger brother Billy fell in with a local gang. Sloane took up a costume and drove the gang out of town. From then on, he operated as the superhero Mr. Terrific, the Man of 1000 Talents and Defender of Fair Play.
Mr. Terrific became a member of the Justice Society of America. Decades later, he attended a mixer hosted by Justice League International.
Appearances:
Edit
Season 3:
Edit
Ad blocker interference detected!
Wikia is a free-to-use site that makes money from advertising. We have a modified experience for viewers using ad blockers

Wikia is not accessible if you've made further modifications. Remove the custom ad blocker rule(s) and the page will load as expected.