Mystery in Space!
is the fourtenth episode of
Batman: The Brave and the Bold
.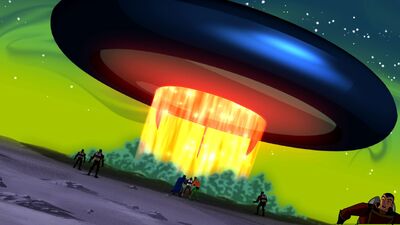 March 13, 2009
Batman rescues the Question and Gorilla Grodd from the mysterious Equinox. During the chase, Equinox successfully evades Batman and promises they will meet again.
Main Plot
Edit
Aquaman (depressed after being unable to stop a beluga whale hunt in the Bering Sea) accompanies Batman to the planet Rann to help space hero Adam Strange stop the Gordanian General Kreegar from obtaining the Eye of Zared and destroying Rann.
???
Diedrich Bader as Batman
Nicholas Guest as Question
Oded Fehr as Equinox
John DiMaggio as Gorilla Grodd/Aquaman
Michael T. Weiss as Adam Strange
Cathy Cavadini as Alanna Strange
Richard McGonagle as Professor Sardath
Richard Green as General Kreegar
Ad blocker interference detected!
Wikia is a free-to-use site that makes money from advertising. We have a modified experience for viewers using ad blockers

Wikia is not accessible if you've made further modifications. Remove the custom ad blocker rule(s) and the page will load as expected.