Night of the Huntress!
is the sixteenth episode of
Batman: The Brave and the Bold
.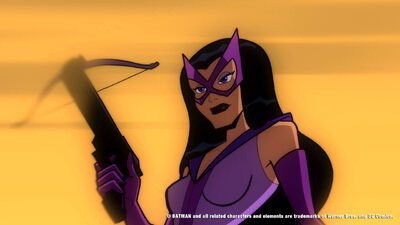 May 8, 2009
Batman and Black Canary team up to battle Solomon Grundy and his Gang at a Science Lab.
Main Plot
Edit
With the help of Blue Beetle and Huntress, Batman fights the criminal activities of Babyface and his wife Mrs. Manface when they break out their old gang from Blackgate Penitentiary. Meanwhile, Blue Beetle develops a huge crush on Huntress.
Babyface's full name is Alfonso Vincenzo Giuseppe Face. Mrs. Manface's is Manfreda Donatella Face.
Among the villains seen during the prison breakout are: Fun Haus, Sportsmaster, Black Manta, Clock King, Kiteman, the Top, Felix Faust, the Cavalier, Dr. Polaris, and Scarecrow. Villains from the 60's Batman series that appear include The Archer, Bookworm, King Tut, Egghead, the Mad Hatter, and Falseface (at the prison), and Louie the Lilac (at the crime boss meeting just before Mrs. Manface breaks in). New villains that appear include the Shark (at the prison breakout) and Weather Wizard (talking to Calculator).
Diedrich Bader as Batman/Solomon Grundy
Grey DeLisle as Black Canary
Gregg Berger as Scientist/Mob Boss
Tara Strong as Huntress
Will Friedle as Blue Beetle
Jason Marsden as Paco
Armin Shimerman as Cop/Calculator
Tom Kenny as Baby-Face
Ellen Greene as Mrs. Man-Face
Ad blocker interference detected!
Wikia is a free-to-use site that makes money from advertising. We have a modified experience for viewers using ad blockers

Wikia is not accessible if you've made further modifications. Remove the custom ad blocker rule(s) and the page will load as expected.