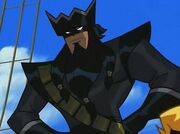 Pirate-Batman is one of the supporting protagonists in Batman: The Brave and the Bold.
He is voiced by Diedrich Bader.
Biography:
Edit
In the 18th century, a man became Pirate-Batman, a sea devil, to strike terror in evil and keep the seven seas safe. He took Booster Gold and Blue Beetle aboard his ship and questioned them about their trespass. An assassin from the Batman Revenge Squad arrived and summoned a sea monster to kill Pirate-Batman. After witnessing the duo in action, Pirate-Batman offered them to join his crew as permanent members. They declined and returned to the Justice League International. Pirate-Batman concluded they were good, but a bit peculiar. Soon after, he was brought to the far future to fight a fragment of Equinox.
Appearances:
Edit
Season 3:
Edit
Ad blocker interference detected!
Wikia is a free-to-use site that makes money from advertising. We have a modified experience for viewers using ad blockers

Wikia is not accessible if you've made further modifications. Remove the custom ad blocker rule(s) and the page will load as expected.