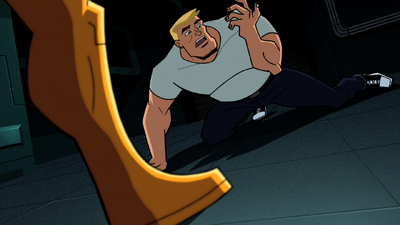 Powerless! is the sixty-second episode of Batman: The Brave and the Bold.
October 7, 2011
The Jokers of All Nations gatecrash the headquarters of the Batmen of All Nations in a bid to destroy them all.
Main Plot
Edit
Captain Atom, the newest member of the Justice League International, is drained of his powers when the team takes on his old enemy Major Force. As the League try to stop the villain's rampage, Captain Atom struggles to fit in without powers.
???
Diedrich Bader as Batman/Musketeer
John DiMaggio as Gladiator/Aquaman
Jeff Bennett as El Guacho/Joker
Brian Bloom as Captain Atom
Nicholas Guest as Martian Manhunter
Fred Tatasciore as Major Force
Ad blocker interference detected!
Wikia is a free-to-use site that makes money from advertising. We have a modified experience for viewers using ad blockers

Wikia is not accessible if you've made further modifications. Remove the custom ad blocker rule(s) and the page will load as expected.