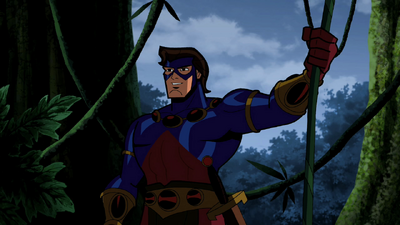 Sword of the Atom! is the fifty-ninth episode of Batman: The Brave and the Bold.
September 16, 2011
From the files of the Bat-Computer, Batman and Robin fight King Tut while wearing a special mummified uniform, as Vicki Vale watches.
Main Plot
Edit
Two years ago, Batman and the Atom (Ray Palmer) worked together to save themselves from villains like Cannoneer, Dwarfstar, and Thinker. Ray later retired and Ryan Choi takes up the mantle. Two years later, Palmer's arch-nemesis Chronos plans an attack and Batman goes looking for him. When Batman disappears, Aquaman and Atom (Ryan Choi) must shrink to a microscopic size in the Amazon Jungle to save the Caped Crusader and Ray Palmer from tiny aliens called Katarthans who are led by Chancellor Deraegis.
???
Diedrich Bader as Batman
Jeremy Shada as Robin
Gabrielle Carteris as Vicki Vale/Princess Laethwen
John DiMaggio as King Tut/Aquaman
James Sie as Ryan Choi
Peter Scolari as Ray Palmer
Enn Reitel as Chancellor Deragis
Ad blocker interference detected!
Wikia is a free-to-use site that makes money from advertising. We have a modified experience for viewers using ad blockers

Wikia is not accessible if you've made further modifications. Remove the custom ad blocker rule(s) and the page will load as expected.