The Criss Cross Conspiracy!
is the fourty-sixth episode of
Batman: The Brave and the Bold
.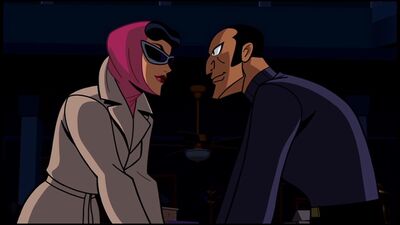 October 22, 2010
Batman and the Atom end up fighting Bug-Eyed Bandit and gain the unexpected help of Aquaman.
Main Plot
Edit
Batwoman comes out of retirement when she sees an opportunity for revenge against the Riddler for humiliating her ten years ago during his fight with Batman and Robin in which he unmasked her. In order to get back at him, she hires the sorcerer Felix Faust to swap her body with Batman's body following his fights with Spinner and Tiger Shark. Batman brings Nightwing and Batgirl to help out.
???
Diedrich Bader as Batman
John DiMaggio as Aquaman/Spinner
James Sie as Atom
Dee Bradley Baker as Bug-Eyed Bandit/Felix Faust
Crawford Wilson as Nightwing
Mae Whitman as Batgirl
Jeremy Shada as Robin
Vanessa Marshall as Batwoman
John Michael Higgins as Riddler
Ad blocker interference detected!
Wikia is a free-to-use site that makes money from advertising. We have a modified experience for viewers using ad blockers

Wikia is not accessible if you've made further modifications. Remove the custom ad blocker rule(s) and the page will load as expected.