The Eyes of Despero!
is the tenth episode of
Batman: The Brave and the Bold
.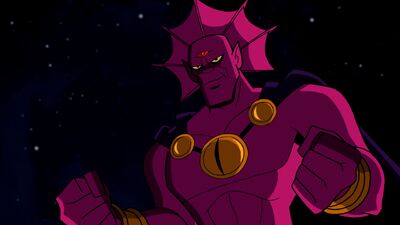 February 6, 2009
Batman and Doctor Fate must stop Wotan from breaking into the Library of Infinity.
Main Plot
Edit
After defeating Cavalier, Batman teams up with the last members of the Green Lantern Corps (Guy Gardner, G'nort, and Sinestro) when the alien dictator Despero plans to mind control Mogo the Living Planet and use him to conquer the universe.
???
Diedrich Bader as Batman
Greg Ellis as Dr. Fate/Cavalier
James Arnold Taylor as Wotan/Guy Gardner
Alexander Polinsky as G'Nort
Loren Lester as Hal Jordan
Kevin Michael Richardson as Despero
Xander Berkeley as Sinestro
Ad blocker interference detected!
Wikia is a free-to-use site that makes money from advertising. We have a modified experience for viewers using ad blockers

Wikia is not accessible if you've made further modifications. Remove the custom ad blocker rule(s) and the page will load as expected.