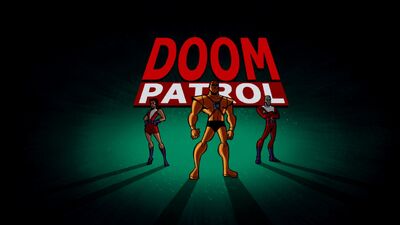 The Last Patrol! is the fourty-fifth episode of Batman: The Brave and the Bold.
October 8, 2010
Two years ago, Batgirl debuts as she saves Batman from the maniacal Killer Moth. In the present, they are captured by the Penguin.
Main Plot
Edit
The Doom Patrol (consisting of the Chief, Elasti-Girl, Negative Man, and Robotman) comes out of retirement when a group of villains (consisting of General Zahl, Brain, Monsieur Mallah, Animal-Vegetable-Mineral Man, Arsenal, and Mutant Master) tries to assassinate them.
???
Diedrich Bader as Batman
Mae Whitman as Barbara Gordon/Batgirl
Corey Burton as Killer Moth/General Zahl
Stephen Root as Penguin
Richard McGonagle as Chief
Olivia d'Abo as Elasti-Girl
David Hill as Negative Man
Henry Rollins as Robotman
Dee Bradley Baker as Brain/Animal-Vegetable Mineral Man
Fred Tatasciore as Arsenal/Mutant Master
Ad blocker interference detected!
Wikia is a free-to-use site that makes money from advertising. We have a modified experience for viewers using ad blockers

Wikia is not accessible if you've made further modifications. Remove the custom ad blocker rule(s) and the page will load as expected.