The Mask of Matches Malone!
is the fourty-third episode of
Batman: The Brave and the Bold
.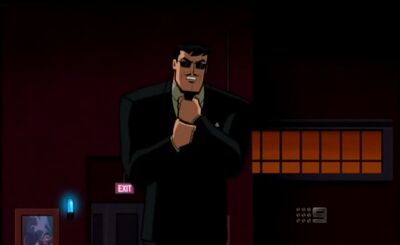 September 24, 2010
Batman joins forces with Black Orchid as they both fight the seductive, but dangerous, Poison Ivy, along with her henchwomen.
Main Plot
Edit
Black Canary and Huntress, along with Catwoman, pursue Two-Face. At the same time, Batman (in his Matches Malone persona) gets amnesia and believes himself to actually be a gangster.
Gail Simone's first draft of the opening teaser had Queen Bee as the villain rather then Poison Ivy.
Diedrich Bader as Batman/Matches Malone
Vanessa Marshall as Poison Ivy
Grey DeLisle as Black Canary
Tara Strong as Huntress
Nika Futterman as Catwoman
James Remar as Two-Face
John Mariano as Mobster
Ad blocker interference detected!
Wikia is a free-to-use site that makes money from advertising. We have a modified experience for viewers using ad blockers

Wikia is not accessible if you've made further modifications. Remove the custom ad blocker rule(s) and the page will load as expected.