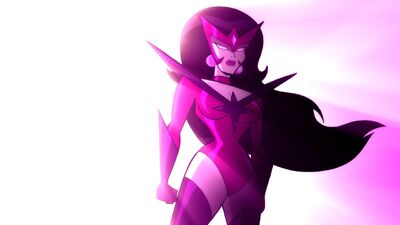 The Scorn of the Star Sapphire! is the fifty-sixth episode of Batman: The Brave and the Bold.
April 15, 2011
Wonder Woman comes in to defeat Baroness Paula Von Gunther and her army of robots, as well as to save Batman and Col. Steve Trevor.
Main Plot
Edit
Following battles with Tattooed Man and Major Disaster, Batman teams up with Hal Jordan to fight Star Sapphire and her Zamaron army. Unbeknownst to Batman and Hal Jordan, Star Sapphire is actually Carol Ferris whom the Zamarons abducted and turned into Star Sapphire.
???
Diedrich Bader as Batman
Vicki Lewis as Wonder Woman/Star Sapphire
Sean Donnellan as Steve Trevor
Eliza Schneider as Baroness Paula Von Gunther/Georgette Taylor
Loren Lester as Hal Jordan
Rachel Quaintance as Carol Ferris
Michael Jai White as Tattooed Man
James Arnold Taylor as Major Disaster