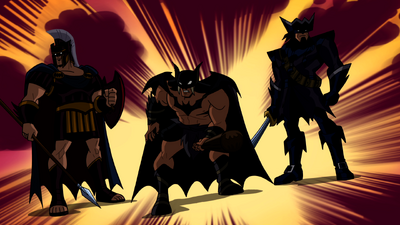 Time Out for Vengeance! is the fifty-eighth episode of Batman: The Brave and the Bold.
April 29, 2011
The Creeper cheers on and helps Batman when he's fighting Hellgrammite.
Main Plot
Edit
After Batman disappears following a fight with Catman, the Justice League International and Rip Hunter travel through time to stop the minions of Equinox from wiping out all the incarnations of Batman throughout time.
The episode had references from Grant Morrison's The Return of Bruce Wayne storyline.
Equinox's Embodiment of Hatred in the far future's goal is to destroy all Batmen from excistance.
Diedrich Bader as Batman/Caveman Batman/Pirate Batman/Batmanicus/Robot Batman
Brian Bloom as Creeper/Rip Hunter
John DiMaggio as Hellgrammite/Aquaman
Will Friedle as Blue Beetle
Tom Everett Scott as Booster Gold
James Arnold Taylor as Guy Gardner
Nicholas Guest as Martian Manhunter
Grey DeLisle as Fire
Jennifer Hale as Ice
Oded Fehr as Equinox